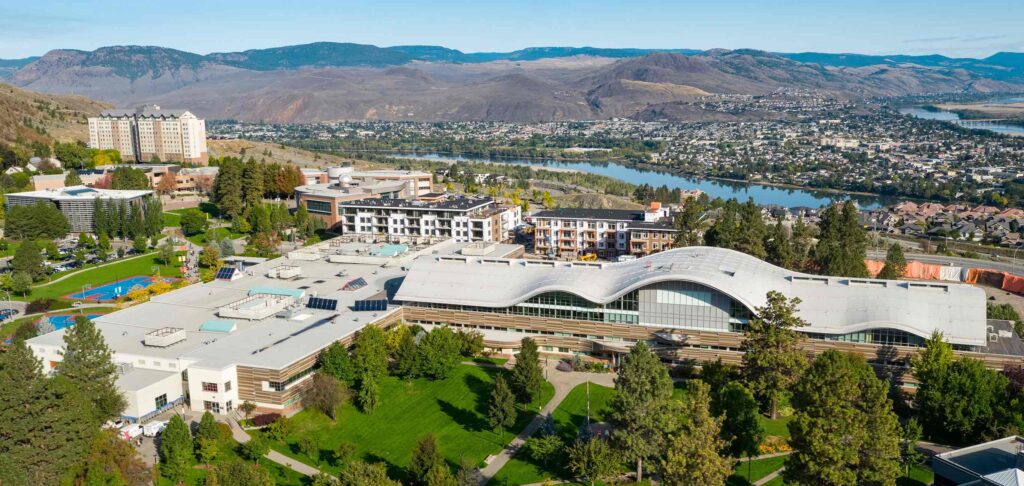 Territorial Acknowledgement
Thompson Rivers University campuses are on the traditional lands of the Tk'emlúps te Secwépemc (Kamloops campus) and the T'exelc (Williams Lake campus) within Secwépemc'ulucw, the traditional and unceded territory of the Secwépemc. Our region also extends into the territories of the St'át'imc, Nlaka'pamux, Nuxalk, Tŝilhqot'in, Dakelh, and Syilx peoples.
Listen to the Acknowledgement Here
Institutional Context
Thompson Rivers University (TRU) transformed from a community college to a university college and, in 2005, to a university in a merger with BC Open University. TRU has remained consistent with the values that motivated the formation of the original Cariboo College with its emphasis on teaching excellence. Over 28,000 students study on TRU's campuses, or through distance and online courses and programs. Built on the fundamental pillars of access to education and recognition of university-level learning through an established credit bank and prior learning assessment and recognition, TRU's open mandate means all types of learners have an opportunity to successfully complete their education and grow their careers in the most efficient and effective manner possible.
From traditional academics to trades, from certificates to graduate degrees, TRU offers over 200 programs—roughly three-quarters are offered on campus and the remaining one quarter online. TRU has a diverse student demographic: over 10% of students are Indigenous from a variety of nations, 35% join TRU from more than 100 countries around the globe, and 32% are mature learners (over 25 years of age).
Collegial Governance
At TRU, faculty members play the primary role in establishing curricula, assessing student learning, and improving instructional programs. Curriculum development is underpinned by collegial governance, which is driven by faculty, and enacted through collaborative decision-making processes that include discussion, debate, and decision by committee.
The university has established quality assurance processes that are intentionally faculty-led, with opportunities for faculty learning and development with support from quality assurance practitioners and educational developers embedded directly into the processes (for example, see Hoare et al., 2022; Hoessler et al., forthcoming). By embedding educational development into quality assurance systems we believe that we can increase the utility of such systems and shift the focus from accountability towards continuous quality improvement.
TRU's learning outcomes and assessment initiative is led by the Assurance of Learning (AoL) Subcommittee, a subcommittee of both the Academic Planning and Priorities and Teaching and Learning Committees of Senate. The AoL Subcommittee has faculty representation from all nine Faculties and Schools, as well as quality assurance practitioners and educational developers. This faculty-majority committee is chaired by a faculty member and is responsible for advising Senate on the development of "a model of continuous learning outcomes assessment and curricular review that fits with TRU's culture and established structures and processes, including an assessment plan for TRU's institutional learning outcomes."
Continuous Quality Improvement
TRU maintains a high standard of quality assurance and holds an Education Quality Assurance (EQA) designation through the BC Ministry of Advanced Education, Skills and Training (AEST). Standards for maintaining this trademark are outlined on AEST's website under Education Quality Assurance. TRU must meet or exceed these qualifications, set out by the Ministry.
TRU is accredited by the Northwest Commission on Colleges and Universities (NWCCU) at the associate, baccalaureate, and master's degree levels. TRU voluntarily chose to seek accreditation because we see the value in accreditation's self-evaluation and peer evaluation processes as a catalyst for improvement. Accreditation acts as a framework to strategically consider the effectiveness of key components of educational quality and has spurred several continuous quality improvement initiatives at TRU including mission fulfillment planning and evaluation, the adoption of institutional learning outcomes, learning outcomes assessment, and the development of a data diversity strategy.
A greater emphasis on program and institutional learning outcomes and assessment from the provincial government coupled with the NWCCU Standards of Accreditation, has created space for dialogue, increased research into best practices, and prioritized funding and resources targeted towards meeting the standards set out by AEST and NWCCU.
References
Hoare, A., Dishke Hondzel, C. and Wagner, S. (2022). Forming an academic program review learning community: Description of a conceptual model. Quality Assurance in Education, Ahead-of-print. https://doi.org/10.1108/QAE-01-2022-0023
Hoessler, C., Hoare, A., Austin, E., Huscroft, C., McKay, L., McDonald, B., & Reid, R. (forthcoming). Strategic assessment of institutional learning outcomes: A faculty-led community of practice approach.